Sports
Women World Cup, England 1-0 Argentina
England booked their place in the World Cup knockout stages after beating a resolute Argentina thanks to Jodie Taylor's first goal in 14 months.
Phil Neville's side looked as though they would pay for Nikita Parris' missed first-half penalty, which was saved by the brilliant Vanina Correa after Alex Greenwood was tripped.
The Argentine goalkeeper also denied Beth Mead, Parris and Taylor, but had no chance in stopping Euro 2017's golden boot winner, as she tapped in Mead's low cross after 61 minutes.
The victory for England, who are ranked third in the world – 34 places above Argentina – means they qualify for the second round and can seal top spot in Group D with a point against Japan in their final game on Wednesday.
In front of a crowd of 20,294 in the industrial city of Le Havre, it was also the first time England have won their first two World Cup matches.
But they were made to battle for it against a determined Argentina, who won their first ever World Cup point in their opening draw with 2015 champions Japan and have had to overcome hardships in the last few years.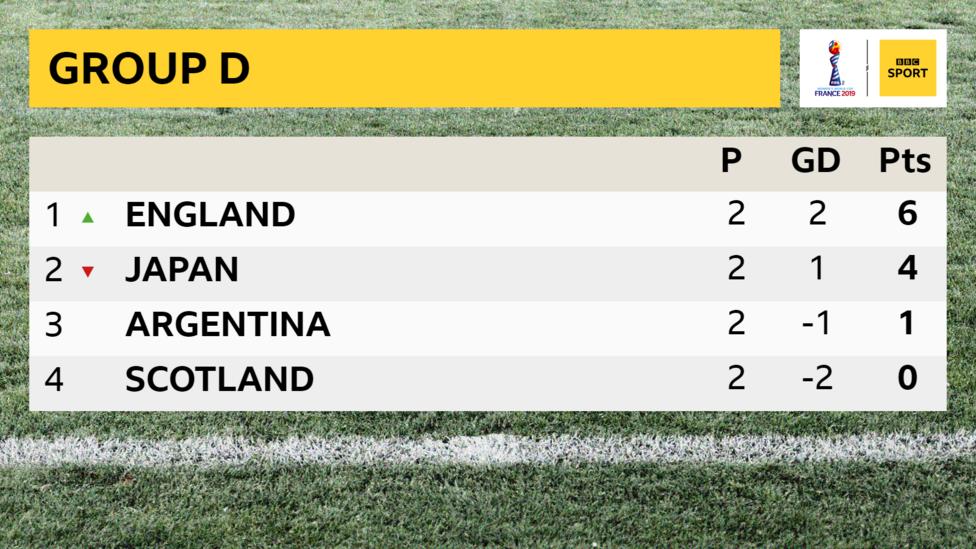 Neville said that he was prepared for a game which would evoke the footballing "history and rivalry" between the two countries, and expected Argentina to defend with vigour and passion.
So it was no surprise that England started as if they were eager to score early on, but were often let down by a poor final ball.
Mead was guilty of that on several occasions, yet she and Greenwood were the source of many England attacks down the left. That was in contrast to the Lionesses' opening game when Parris and Lucy Bronze thrived down the right.
Despite those early lapses, it was Mead who twice broke Argentina's resistance. The Arsenal winger played in Greenwood before she was tripped by Ruth Bravo, leading to Parris's spot-kick.
The England winger, who had buried a penalty against Scotland in England's opening game, this time went the other way and struck it with less venom, allowing Correa to tip it on to the post.
The Argentine goalkeeper also stuck out a leg to deny Mead before the break and denied Parris again after the newly-signed Lyon forward struck a booming shot after a free-kick was cleared.
As the game reached the hour mark, it seemed as if Correa's goal was impenetrable, but the latter of two flowing moves led to Taylor's goal and the 33-year-old, who had not scored since a World Cup qualifier in April 2018 – or in 363 minutes of football – celebrated her 18th England goal with enthusiasm.
Having scored five times at Euro 2017 where England reached the semi-finals and once at the 2015 World Cup, where England finished third, she once again showed she has an appetite for the big occasion, which may prove crucial as England seek to win their first major tournament.
Argentina, who did not have a team for two years between 2015 and 2017 after a lack of backing from their federation, are appearing in their first World Cup for 12 years.
Back in 2007, they lost 6-1 to England, but they are a far more competitive outfit now, despite not enjoying the salaries or support of their opponents, who Neville described as being "blessed".
That gulf in resources was not matched on the pitch, however, as Carlos Borrello's well-drilled side got players behind the ball and defended stoutly with the kind of "rebel spirit" that their manager had spoken of prior to the game.
That was summed up by Correa, who palmed Parris' penalty onto the post after 28 minutes, and then superbly stopped Mead's effort before making her best save to deny Parris again.
Argentina's first effort on goal was after 21 minutes, an overhit free-kick which Carly Telford, making her debut World Cup appearance at the age of 31, easily gathered.
They also only had 24% possession, yet forward Sole Jaimes and number 10 Estefania Banini caused occasional problems for the England defence, and the team's robust style certainly ruffled some of the England players.
Neville's England, however, will be pleased to come through a tough test again, and give themselves a chance to rotate their squad for the final group game against Japan, who earlier beat Scotland 2-1 to sit second in the group on four points.
"It should have been more, but I stood in the warm-up and saw their goalkeeper – she was unbelievable even in the warm-up. If you're like that before the game you're not always like that in the game, but she was outstanding. What you've seen tonight is an unbelievable goalkeeping performance.
"We want to beat Japan, they were outstanding against Scotland today.
"We'll go to Nice now and get some sun on our backs. Our players and enjoying it, we're having the time of our lives."
England goalscorer Jodie Taylor: "It is a good performance today by the team and good win. I remember Beth Mead playing a perfect ball which landed right on my foot. I was in the right place at the right time.
"Patience was the key, we said it all week. We have had experience facing a block of defence through qualifying and got frustrated, but today we had the quality and it paid off.
"I went to the corner and saw Jordan Nobbs on punditry and I gave her a wave as well as some family. It was a special goal for them."BBCsports